La Busport 2018年 7月号 Vol. 118 転載
2018年5月にオランダに行った際の話です。写真をこの後につけますね。
I went to Nertherlands last May in 2018. The Siebold Museum in Leiden would hold 'Japan fair' and I was invited to volunteer for showing ikebana there. I had known the story of Hydrangea related to Siebold and her love Takai, and I had been wanting to visit Leiden. I made an immediate reply to attend. Thus the main porpose of the trip was for introducing ikebana, but ,luckily, I could have some hours to go around the city.
The most impressive opportunity to give a demonstration for me was at the Burcht Fort made in 11th century. I wrote about it in my essay July version posted above, which is for the monthly tourism journal in Chugoku area which includes Hiroshima and Osaka.
====
City of Leiden
=======
Street Market
======
=========
National Museum of Nertherlands in Amsterdam
==========
Leiden University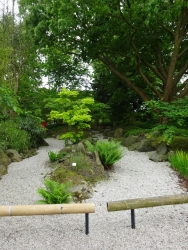 ========
in Amsterdam
===========
Burcht Fort in Leiden
===========
Siebold Museum in Leiden
=======
The trip was successful. I am grateful for having such a great opportunity. I worked for an airline when I was young. I flew to all the cities in the world which JAL had as its station except Amsterdam. Who could expect then I would go to the city Amsterdam many years later with my mission of introducing ikebna as a mean of world peace.
今回はボランティア旅行でしたが、実りある1週間でした。若い頃、JAL客室乗務員をしていました。同時、当航空会社の持つ空港殆ど飛びましたが、アムステルダムだけが飛び残っていました。何年も後に、こうして、いけばなを平和の道として紹介するためにアムステルダムに来ようとは、誰が想像できたでしょう。不思議なご縁と思いました。
スポンサーサイト
トラックバックURLはこちら